How Much A Water Filter Is Necessary For Refrigerator?
Filter For Fridge
Curious about whether your refrigerator will work without depending on a water filter? Do you want to know how the water filter will benefit your refrigerator? Refrigerators can work even without having a water filter in them. But this situation comes with some terms and conditions. You will have a lot of issues with the filtration system. To have a piece of detailed knowledge about the working of a refrigerator with a water filter and if at all you need one, Read on!
Can a Refrigerator Work without a Water Filter?
Usually, a regular refrigerator comes with a water filter. If your fridge lacks one, you need to get it! Its main function is to supply clean and pure water—models like Whirlpool 4396841 and Kenmore 469690 have pre-installed water filters.
Some refrigerators can work well without having a water filter in them. You need to find out if your fridge belongs to the category. To determine the best options for your household, you need to know the importance of a water filter and the overall system.
The fridge with advanced technology has a bypass plug that does the work and no longer needs any extra water filtration system. This bypass plug works differently. It makes the water flow differently than in a water filter. It mainly diverts the water in an opposite path. And in this model, the whole filtration step is skipped. Which is a great disadvantage as it will lead to unclean or bad-tasting water or ice.
Why is Water Filter Essential
Water filters have a crucial task in the overall working of the refrigerator. The major work of a water filter is to purify the dust and toxic particles in the water. To have the purest drinkable water in your house, get a new refrigerator filter.
The water that comes through the water dispenser contains several types of bacteria and is filled with toxic chemicals. To prevent those toxins, you need to have a proper filtration system. This system will clear out all the contamination and serve you healthy and safe water.
A Modern Refrigerator comes with technology that no longer requires an additional water filter. This is a bad investment option, as no filtration purifies the water. You get the directly supplied water in your fridge. The most common issue is that the ice tastes very bad, and the water in the system is filled with bacteria and germs. Ensure you install a water filter, as it will save you from a long list of water-borne diseases.
It is highly essential to get a water filter if your refrigerator does not have one. Several brands make quality water filters that can be easily assembled in your fridge, like Bosch Ultra Clarity, Kenmore 9084, etc.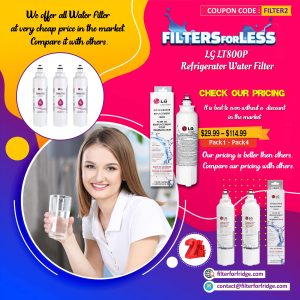 Change the Filter Regularly!
The water filter runs continuously in the refrigerator. As it is always in working mode, it gathers many toxins. Hence you need to change the filter regularly.
There are several reasons why you need to change the filter:
Clogged filter: when the water has a high quantity of dust particles and dirt during the filtration process, these contaminants get stuck on the filter. Over time, this deposit becomes an obstacle in the flow of water. Gradually the flow reduces. To prevent this from happening, you need to get a new filter.
Carbon Overload: water filter has a fixed amount of carbon to facilitate better purification. After continuous water filtration, the carbon level increased due to contaminations and the collection of bacteria. This leads to partial or no purification. Make sure to change the refrigerator filter every two months, to prevent this situation.
Contamination and Bacteria – The water directly supplied to the household is not completely cleaned. It has germs and bacteria in it. Chemical toxins can also be found in the supply of water. When the water passes through the water filter, all these impurities get out. When the cleaning is done extensively, the filter wears out, so you must change it.
Water Filter, A better option than ByPass Plug
These days many fridges come with a pre-installed bypass filter. This filter functions by diverting the water all around the refrigerator, from the water filter to the ice maker and water dispenser.
Through the system, the water filter unit is completely replaced by the bypass plug. Water in the fridge does not go under a filtration process and goes directly to the ice-making unit and water dispenser. This stops the process of filtration in your refrigerator.
The initial function of the bypass plug is to prevent the water from entering the section where the filtration process occurs. In this model, the whole water system will be dysfunctional without installing a bypass plug.
This system is not advisable to use. There is no purification of the water. The bypass model may be a bit budget-friendly, but it is definitely not an ideal choice. When a Refrigerator has no bypass plug, it must have a water filter installed. Choose wisely and get a water filter for your refrigerator. The water filter model comes with a cap. This cap, when removed, gets the water into the filter.
If your refrigerator lacks a water filter, then invest in a good one. Check the brand, model, and type of fridge and focus on the filter type. You can purchase the OEM Samsung DA 29-00020B or Kenmore 46 9999.
Conclusion
To understand if at all your refrigerator needs a water filter or not, you need to consider your priority. It is safe to have a fridge with a filtration system as it makes the ice pure and toxin-free. It will be a safer option for you and your family. A good filtration system will have an improved impact on the working of the fridge. So, invest in a premium quality water filter and save yourself from harmful chemicals and serious health issues.
Call To Action
If you're concerned about the physical well-being of your family, it's best to get the right fridge filter installed in your refrigerator. How do you get your hands on the best fridge filter? Pay a visit to Filters for less to explore a variety of options they offer. For further queries, you can contact us via mail at contact@filterforfridge.com or give us a call at +16157586915.