Can old refrigerator water filters affect your health? Check out how!
Filter For Fridge
Adverse Health Issues Caused Due To Old Refrigerator Water Filters
You recently had your air conditioning maintained and its filter replaced. But, when was the last time you considered a replacement of your refrigerator water filter? In our busy schedules, we might forget that filters of any type come with a use case. Even the best refrigerator water filter tends to experience an efficiency reduction after being used for a long time.
With rising pollution concerns, we are wary of each sip of water we take. So, why not keep an eye on the refrigerator filter as well. A fresh, clean, and tasty glass of water is your right, and so is a clean and highly functional fridge water filter.
How does a dirty, old fridge water filter affect your health?
Even though we don't pay enough attention to your refrigerator water filter, it is a hard-working member of the kitchen. Though a dirty fridge water filter might not exactly be life-threatening, you should swap your old one with a new filter to ensure you don't have to deal with its adverse effects.
Lucky for you, keeping your drinking water safe is a fairly easy task. The only thing you need to do is swap the old one with a new refrigerator filter. Apart from streaming bacteria into your drinking water, an old filter might also cause the leaching of chemical contaminants such as lead, asbestos, mercury, and more.
Let us learn more about these chemical contaminants that can affect your health. But, before we do that, you might want to check for some reliable options in the market, such as the Everydrop Refrigerator Water Filter and many more.
Common contaminants that make way into your drinking water due to old or dirty refrigerator filters include chemicals such as:
A common chemical found in your drinking water is lead which seeps into your drinking water via old pipes made of lead. This chemical can make its way into your body and cause behavioral, neurological, & other health issues in both adults and children. To significantly reduce the amount of lead in your water, you can look for quality options like the Kenmore Water Filter.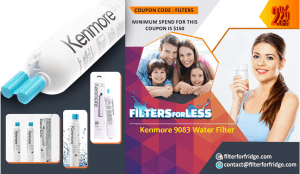 Yes, even the notorious mercury can also make its way into the body via your drinking water. High mercury levels can cause issues such as brain damage, kidney malfunction, & hamper fetal health as well. Mostly, mercury found in water isn't as high to cause serious issues. However, when you have the best fridge water filter in place helps eliminate mercury completely from your drinking water.
According to the WHO, asbestos can be found mostly in water that comes from construction areas. It seeps into the water through various channels that include piping erosion, atmospheric pollution, and industrial waste. Commonly known health hazards that happen due to asbestos include lung cancer & mesothelioma.
Most of us are unaware of the fact that chemical byproducts, waste, or even radioactive pollutants can make way to your daily drinking water. With a high-end refrigerator filter, you can get rid of such dangerous pollutants. An excellent choice recommended for most buyers is the Kenmore water filter , Whirlpool refrigerator water filter etc etc.
Side-Effects of an Old Refrigerator Filter
A bad filter doesn't just hamper your body but also affects your refrigerator. Let us check out these side effects in detail:
Ages Your Refrigerator Faster:
A dirty, old refrigerator filter can affect your refrigerator the very same way it affects your body. If you fail to change the filter in a timely manner, it can lead to scaling & deposit buildup within the pipeline and finally into your glass. It can also cause scaling in the refrigerator's ice machine, which could cause serious damages in the long run.
This unchecked buildup can slow down your system while causing a low water flow. Moreover, it also affects the water's flavor in a negative way. So, if your water feels too iron-like or metallic, it is time to switch to a reliable refrigerator filter such as a Frigidaire refrigerator water filter and many more..
We cannot forget that old and dirty filters fail to completely eliminate the dirt particles in the drinking water. This can add in a gross or overwhelming smell in your drinking water. Your water can taste sulfuric, metallic, and all-around bad.
A reliable way to ensure your water tastes great while still being healthy is to invest in a pocket-friendly and reliable refrigerator filter such as the Frigidaire refrigerator filter. Water that tastes good will also make drinking more appealing. This will help you stick to the daily mandate levels for drinking water while keeping you healthy.
When should you replace your refrigerator water filter?
Your refrigerator filter doesn't require frequent change. The frequency depends on several factors that include the fridge's model and make along with tap water quality, water usage, and ice usage. Different manufacturers have varying recommendations in place.
For example, the GE refrigerator water filter and Samsung refrigerator water filter must be changed after 6 months of usage. Other manufacturers might require you to replace the filter every 3 months.
Conclusion
So, the next time you think your drinking water tastes weird, make sure you schedule a replacement as soon as possible. Better yet, schedule your refrigerator water filter replacement depending on the manufacturer's recommendations. Doing this will help avoid health issues or any pertinent machine damage!
While we are on this topic, your search for the best refrigerator water filter stops here! Filter For Fridge is the best online platform to help you shop for reliable filters at pocket-friendly prices. For any query, you can give us a quick call at +1-615-758-6915 or write to us at contact@filterforfridge.com.